CONTEST 2013 "CHAMPIONSHIP 10M SSB" GUADELOUPE

Announcement of radio contest club A.C.R.A
Championship Guadeloupe 10M SSB Saturday, June 29, 2013
The radio club A.C.R.A FG5KC contest organizer championship island of Guadeloupe on 10M SSB Invites you to participate 10M SSB contest Guadeloupe "Championship 10M FG /" 2013.
SSB on 29-29 June 2013 01:00 UTC to 23:00 UTC.
Good luck!
All entries must be submitted within fifteen (30) days after the end of the contest.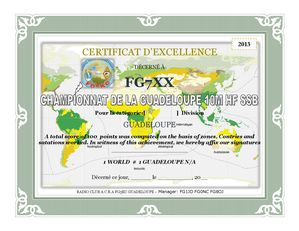 English rule
Organizers:
Association Amateur Radio Club & FG5KC GUADELOUPE (ACRA).
Date and time:
During the last wee-kend June, starting Saturday 29 01h00UTCà 23:00 UTC.
Bands and modes:
10M SSB
It is necessary to follow IARU band plans.
The use of a single transmitter is required.
Categories:
A - Single Operator / (SSB)
B - Single Operator / SSB / / QRP (max 10W)
C - SWL
Participants Low Power - Low Power (100W max output) are marked with an * in the final standings.
Opérateursde the archipelago of Guadeloupe has a separate classification.
Exchange Control:
For non-FG stations: RS (T) + ITU
For FG stations: RS (T) + ZIP (CinqChiffres)
For suffixes (X): will take into account only the log Expl (FG5XJ)
Score:
5 points for connection to a station FG / with the beginning of the suffix of (X)
4 points for a link station with FG (consernés are foreign stations)
2 points for a connection with a different continent.
1 point for liaison with the continent (including country).
1 point for a bond that takes place between two stations FG.
SWL score:
3 points for a link received correctly (correct two codes both controls appropriate)
has received.
1 point for about 80% of correct answers (correct two codes, proper control)
multipliers:
Amount Postal code FG
Final score:
Sum the points multiplier, multiplied by the sum of suffix [X] FG + total contact
LOG paper:
IT will take a paper log with summary sheet.
Please send LOG contest:
Address: RADIO CLUB A.C.R.A FG5KC 58 Terrassons 97,139 ABYMES GUADELOUPE
Your file must be in ADIF, Cabrillo and have the extension. Log or. Cbr.
Send your log to the following address: contest10mfg@gmail.com
Electronic journals:
Please send electronic journal (Cabrillo format preferred) to:
Email: fg5kc.radio@gmail.com
Deadline for sending papers contest:
The log or logs can be sent within 30 days after the date of the competition (in this case, the postmark is decisive and the date of sending the email).
Recommended Software for connecting QSO in the competition:
SD, journal, TR4W, N1MM, WINTEST
or other types of IARU contest.
Awards:
The first category A & B get uneplaque
The first three awards in each category will graduate.
Especially for the category Single Operator / a band, a fashion / / QRP (max 10W), a plate will be games every year of the competition representing the yellow jersey HF Guadeloupe, 10M HF Contest desdeuxcatégorie first.
Notice amateurs FG / defender your island, your island on the airwaves amateur
Note:
The total number of postal codes FG is 40.
Here are postal codes for Guadeloupe:
LIST OF POSTAL CODE
GOOD CONTEST 10M SSB
| | |
| --- | --- |
| ANSE BERTRAND | 97121 |
| BAIE MAHAULT | 97122 |
| BAILLIF | 97123 |
| BANANIER | 97130 |
| BASSE TERRE | 97100 |
| BOUILLANTE | 97125 |
| CAPESTERRE BELLE EAU | 97130 |
| CAPESTERRE DE MARIE GALAN | 97140 |
| DESHAIES | 97126 |
| DOUVILLE | 97180 |
| GOURBEYRE | 97113 |
| GOYAVE | 97128 |
| GRAND BOURG | 97112 |
| LA DESIRADE | 97127 |
| LAMENTIN | 97129 |
| LE GOSIER | 97190 |
| LE MOULE | 97160 |
| LES ABYMES | 97139 |
| LES MANGLES | 97131 |
| MORNE A L EAU | 97111 |
| PETIT BOURG | 97170 |
| PETIT CANAL | 97131 |
| PIGEON | 97132 |
| POINTE A PITRE | 97110 |
| POINTE NOIRE | 97116 |
| PORT LOUIS | 97117 |
| ST BARTHELEMY | 97133 |
| ST CLAUDE | 97120 |
| ST FRANCOIS | 97118 |
| ST LOUIS | 97134 |
| ST LOUIS | 97134 |
| ST MARTIN | 97150 |
| STE ANNE | 97180 |
| STE MARIE | 97130 |
| STE ROSE | 97115 |
| TERRE DE BAS | 97136 |
| TERRE DE HAUT | 97137 |
| TROIS RIVIERES | 97114 |
| VIEUX FORT | 97141 |
| VIEUX HABITANTS | 97119 |