DIPLOMA MILLS OF GUADELOUPE (DMG971)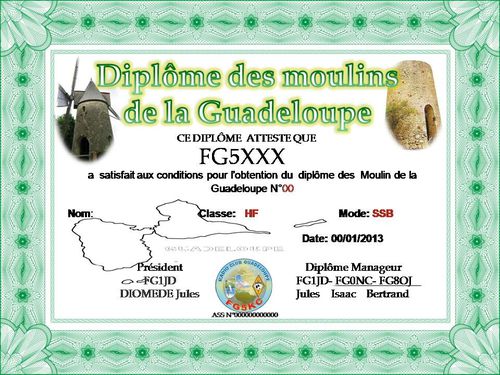 Regulation DMG-971 CONDUCT:
 ACRA requires all applicants and amateur listener for obtaining the plate 971 or DMG DMG-971 Diploma of ACRA sportsmanship and good conduct traffic rules and driving DXcode.
 For graduation or plate DMG-971, the applicant or the representative of the amateur (QSL-manager..) May be disqualified in case of reprehensible acts demonstrate the non-compliance.
 If the representative is an amateur fails, unbeknownst to it, supporting documents will be rejected and then informed the station concerned.
 Only the manager's diploma and DMG-971 plate elected by AIDA, in coordination with the President is empowered to take all decisions, they are final.
PURPOSE:
The DIPLOMA MILLS OF GUADELOUPE (DMG-971.) is intended to promote the show on the amateur bands live in the archipelago and to discover the heritage of Guadeloupe. DEPARTURE DATE: January 1, 2013
This degree may be obtained by any amateur radio and earphones have contacted and confirmed at least 20Moulins (DMG-971 base) of the island of Guadeloupe and islets.
The degree has three major higher classes are:
1. DIPLOMA DMG-971 (10) strips to confirm all 10 mills
2. DIPLOMA DMG-971 (25) strips to confirm all 25 mills
3. PLATE DMG-971 (from 100 mills TBC) DMG-971 Manager
A list of mills Guadeloupe is established with reference to promotion of DMG-971.
For mills without references, a number assigned to progressively activities, for each site, and must activations during at least 50 contacts for the site to be "valid" with the constraint that the activity has occurred within 100m of the site.
PROOF:
1. To apply for graduation DMG-971 stations are exempt from the French sent his QSLs to ACRA Radio Club.
2. It should be noted that the electronic QSL with reference to the mill, or EQSL QSL received by email are accepted, as well as checklists log countersigned. For foreign stations: Following the recommendations of the IARU, only one copy of the logbook certified by an official (national or club) is required.
REFERENCE:
In the years 1820, 1830, Guadeloupe were nearly 240 mills. Mills were used to grind the cane to produce sugar. Each mill is a reference in the form of: DMG971AABB or AA is the postal code and BB code 00-99 to identify?
References are allocated radio talk AIDA club, and the DMG-971-Manager
So that each station activating a mill of Guadeloupe can use references.
No further reference will be valid for this degree.
At an event using the reference as DMG-971 .... Is imperative.
The same reference mills of Guadeloupe can be taken into account for the diploma mills France DMF.
It will be published sites Blog Web Club and other media amateurs by DMG-971-Manager lists stations who obtained the plate or diploma DMG-971.
Manager and the degree plate AIDA wish you much success in obtaining these certificates.
Do not hesitate to contact us, we're here to help!
A small contribution to the diploma and the plate you will be asked.
Demand DMG-971 should be sent to:
RADIO CLUB AIDA FG5KC Application Diploma
58 Terrassons 97139 Abymes Guadeloupe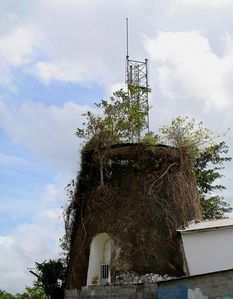 They can be sent free by email
The list of mills of Guadeloupe is certainly not complete.
For assistance please do not hesitate to contact Jules FG1JD.
List of Moulins DMG-971 of Guadeloupe in 1820, 1830, Guadeloupe were nearly 240 mills. Mills were used to grind the cane to produce sugar. They are part of the landscape of Guadeloupe. We see in Grande-Terre, Basse-Terre and Marie-Galante (known as the island of a hundred mills). Some are in ruins and overgrown with fig trees often cursed, others have been beautifully restored ...